Aus vs Eng, 2nd Men's Ashes Test, 2021-22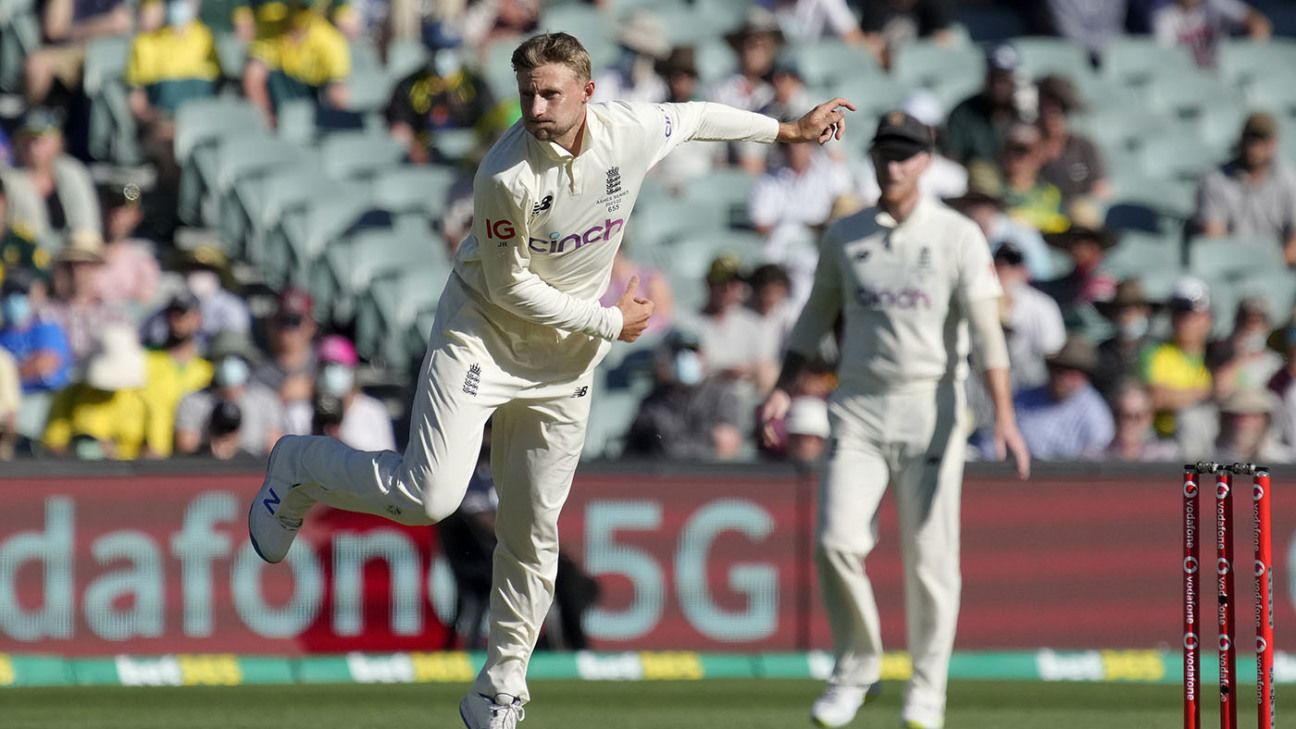 News
Attack comprised five right-arm seamers of a similar pace and Root's part-time offbreaks
Graham Thorpe
, England's assistant coach, has defended their selection and bowling plans after Australia racked up 221 for 2 on the first day of the second Ashes Test in Adelaide.
England made two changes to the side that was thrashed by nine wickets at the Gabba, bringing in
James Anderson
and
Stuart Broad
in place of Mark Wood and Jack Leach; as a result, their attack comprised five right-arm seamers of a similar pace and
Joe Root
's part-time offbreaks.
Jos Buttler dropped two catches off
Marnus Labuschagne
– including one particularly straightforward one late in the day – and England's seamers beat the bat on a number of occasions, but ultimately a return of two wickets in 89 overs with the pink ball served to highlight the attack's lack of variation.
Asked if England should have included either a frontline spinner or a genuine fast bowler like Wood with a point of difference, Thorpe insisted that they had selected a strong attack. "No, I think we picked the right team for this match," he said. "Actually, I thought that on another day, we could have grazed the edge more and it could have been different on day one."
England reverted to a short-ball plan at stages during the day, with
Ben Stokes
used as an enforcer and bowling to six-three leg-side fields. Stokes was England's most expensive bowler, conceding 50 runs in his 13 overs, but did take the wicket of
David Warner
, slapping a cut straight to cover.
"It unsettles," Thorpe said. "It gives you an option and a way of attacking. I don't think you can attack like that all the time due to what it physically takes out of your bowlers. They may all be right-arm bowlers but for me they've all got a slightly different style about them as well. We stuck at it well but we didn't quite get the rub today.
"I don't think our plans were too bad. If we'd bowled poorly, we would have gone for a lot more throughout the day. It's not a case of feeling sorry for ourselves when we come in tomorrow again, it's a case of trying to do very similar things and when it comes to our turn to bat, doing things for a long period of time.
"I think you saw that from the two players today, they did things well for long periods of time, and you can take advantage in the last session at times if you have an attack which is a little bit more tired. It's very important that we're able to make some inroads tomorrow."
Having lost five World Test Championship points and their collective match fees due to a
slow over-rate at the Gabba
last week, England managed to bowl 89 of the scheduled 90 overs on the first day in Adelaide, though they required five overs of Root bowling negatively with the old ball in order to catch up.
While over-rates are likely to remain a problem with a five-man seam attack, Thorpe played down the issue. "I think there's bigger things going on in the world than over-rates," he said. "You get through as quick as you can [but] reviews are taking time to get through, sometimes batsmen aren't ready and minutes get lost throughout the day's cricket.
"It's just one of those things in Test cricket. We'd like it to be more perfect but it isn't. We would have liked some more overs [under floodlights] with a newer ball but it's challenging at times. Everyone thinks it's straightforward getting through 80 overs at the perfect time but it isn't. It's much harder [because of] temperatures, make-up of your team and the stoppages that go on throughout the day."
Matt Roller is an assistant editor at ESPNcricinfo. @mroller98