Australia records more than 37,000 new COVID-19 cases in a single day as hospitalisations rise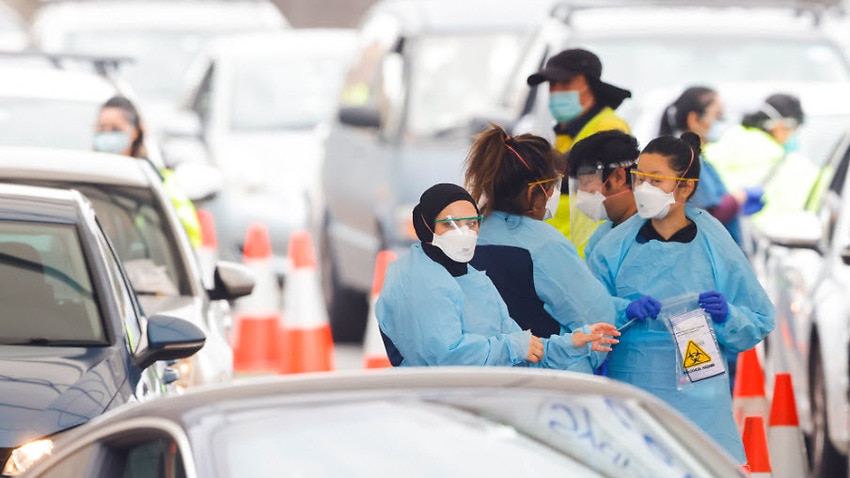 NSW accounts for the majority of those numbers, with 1,204 people hospitalised with the virus on Monday.
With more than 2,500 health workers furloughed in that state, the health system is coming under increasing strain.
Victoria has the next highest COVID-19 hospitalisation figure – 491, with 147 in hospital in Queensland, 82 in South Australia, 26 in the Northern Territory, 11 in the ACT, two in Tasmania and zero in WA.
In Victoria, hospitals urged people seeking COVID-19 tests to stay out of the emergency department, as the state saw its seven-day hospital average rise by 20 cases within a day – from 424 in Sunday's figures to 444 on Monday. 
In a message on Twitter, Western Health – which manages Sunshine, Footscray and Williamstown hospitals in Melbourne's west – urged people to avoid adding to the pressure on emergency departments. 
"Please DO NOT attend the ED unless absolutely necessary. Those with mild COVID symptoms seeking PCR or rapid tests should NOT ATTEND."
Our emergency departments at Sunshine, Footscray, and Williamstown Hospitals are currently under extreme pressure. Please DO NOT attend the ED unless absolutely necessary. Those with mild COVID symptoms seeking PCR or rapid tests should NOT ATTEND. Thank you for your cooperation.
Mr Morrison said authorities have things well in hand and a rise was always expected with the increased infectiousness of Omicron. 
"We know that in the overwhelming number of cases, it has been a mild illness. That doesn't mean it can't put pressure on the hospital system – it can," Mr Morrison told Channel Seven's Sunrise program on Monday. 
"And that is what we're working very closely with the premiers and chief ministers to make sure those resources are there."
He said the ICU figures are relatively low and that should reassure Australians. On Sunday, the national figure for COVID-19 patients in ICU was 148, with 51 people on ventilators. 
"It is important that with the rising case numbers that we see that the severeness of this illness has already been shown to be about 75 per cent less than what we saw with Delta.
PM Scott Morrison. Source: AAP Image/Dan Himbrechts
---
"So rising case numbers is part of the Omicron variant. It is part the new phase of the pandemic we're in."
Mr Morrison is himself monitoring for COVID-19 symptoms after a COVID-19 positive case attended the press conference he held on Wednesday where he announced a snap national cabinet meeting for the following day. 
He is travelling to Canberra on Monday to finalise arrangements with state governments on concessional access to RATs and targeted distribution of the tests in vulnerable settings such as aged care.
A national cabinet meeting is planned for Wednesday.
Treasurer Josh Frydenberg said the federal government has ordered more RATs and the states are expected to receive more supplies, after placing orders for 84 million tests.
Another record rises in cases in Australian states
NSW had 20,794 new COVID-19 cases detected in the latest reporting period, with a further four deaths.
Victoria reached a new daily record for COVID-19 cases, with 8577 infections and a further three deaths.
South Australia registered 2552 new cases, with 94 in hospital and nine in ICU.
Tasmania registered 466 new cases, another record day of infections for the state, while the ACT also set a one-day high of 514 cases on Monday.
Meanwhile, Queensland reached a record of 4249 new infections and one death.
Western Australia detected two new COVID-19 cases on Monday which are likely to be linked to an infected French backpacker who travelled from Queensland.
Patients in intensive care 
In the last 24 hours, the number of patients in NSW with COVID-19 in intensive care rose from 83 to 95. 
In Victoria, 56 people are in ICU with COVID-19 and 24 are on ventilators, while in Queensland, 10 people are in intensive care. 
Queensland Chief Health Officer John Gerrard said a man in his late 30s with "probable COVID-19" died at his home on the Gold Coast.
"I can report that a man in his late 30s with probable COVID-19 died suddenly in his home on the Gold Coast last night," Dr Gerrard said.
"This will be referred to the coroner and our thoughts are with his family.
"I would say that it's very, very unusual for a young man to die suddenly from COVID-19.
"It's a very unusual circumstance so it needs further investigation to find out exactly what has happened here."
Dr Gerrard said authorities did not have confirmation of his diagnosis.
"It's still on a provisional basis, on a rapid antigen test," he said.
Premier Annastacia Palaszczuk said the man's death was a reminder to people of the health risks from the Omicron variant of the coronavirus.
"This is a highly infectious strain. And I want Queenslanders to think really carefully over the next month where they go, especially if they haven't had their booster," she said.