Greens reveal plan to make gender-affirming healthcare free under Medicare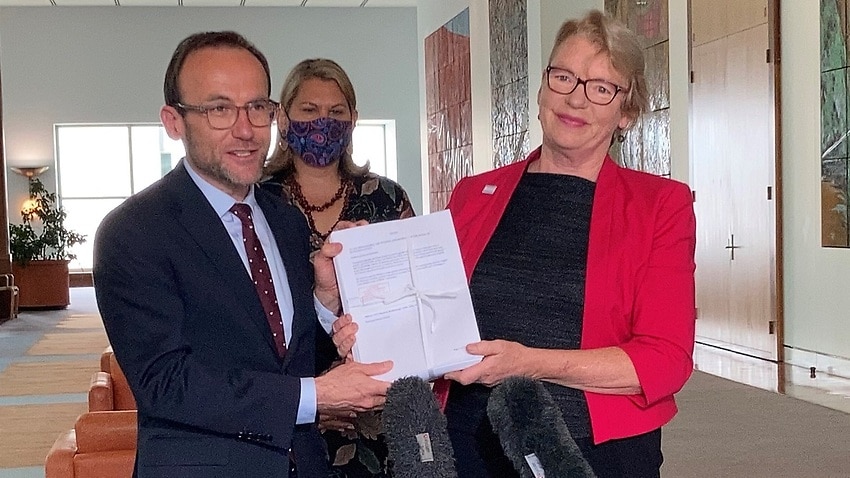 "Everyone has the right to have their specific health needs met with equity, dignity and respect, and it is the government's responsibility to ensure this is no different for trans and gender diverse Australians," Senator Rice said.
"Healthcare is a human right. No matter how much is in your bank account, everyone should be able to access healthcare to alleviate suffering and improve their lives."
The new policy comes as Greens leader Adam Bandt tabled a petition signed by nearly 150,000 Australians in the House of Representatives on Tuesday evening.
The petition — the fifth most signed in the e-petition system's five-year history — calls for gender-affirming and gender reassignment surgery to be eligible for Medicare benefits.
In his address to parliament, Mr Bandt said "there is a need" for all trans and gender diverse people to be able to afford the services.
Greens leader Adam Bandt. Source: AAP
---
"It is our duty to make sure that socio-economic barriers don't stop trans and gender diverse people from accessing life-saving support services," he said.
"No matter how much or how little money you have, you should be able to access healthcare that affirms your identity and expression of who you are, and helps you be seen in the way that you want to be seen."
The medical care to be covered under the plan is expected to include access to surgical procedures, prescribed hormones, and products and services intended to provide authentic gender identity and expression.
While some gender-affirming surgery items are eligible for rebates under Medicare, there is often a significant price gap that must be covered out-of-pocket, costing tens of thousands of dollars.
Private health insurance can help close this gap, but many people cannot afford this. And even with a health fund's assistance, costs can still be prohibitive.
A Department of Health spokesperson said that before any procedure can be funded on the Medicare Benefits Schedule (MBS), an independent committee must assess its "safety, clinical effectiveness and cost-effectiveness".
The spokesperson stated there has been no application submitted to list an MBS item for gender-affirming surgery. 
"A range of individual surgical procedures and consultation services which are listed on the MBS can be provided as part of the gender affirmation process."
"The MBS items for specialist consultations with plastic and reconstructive surgeons and psychiatrists may also be relevant for some patients. There are a range of Medicare rebates for these services."
Labor's health spokesman Mark Butler has been contacted for comment.
LGBTIQ+ Australians seeking support with mental health can contact QLife on 1800 184 527 or visit qlife.org.au. ReachOut.com also has a list of support services.