Ind vs NZ 2nd Test Mumbai – Ajaz Patel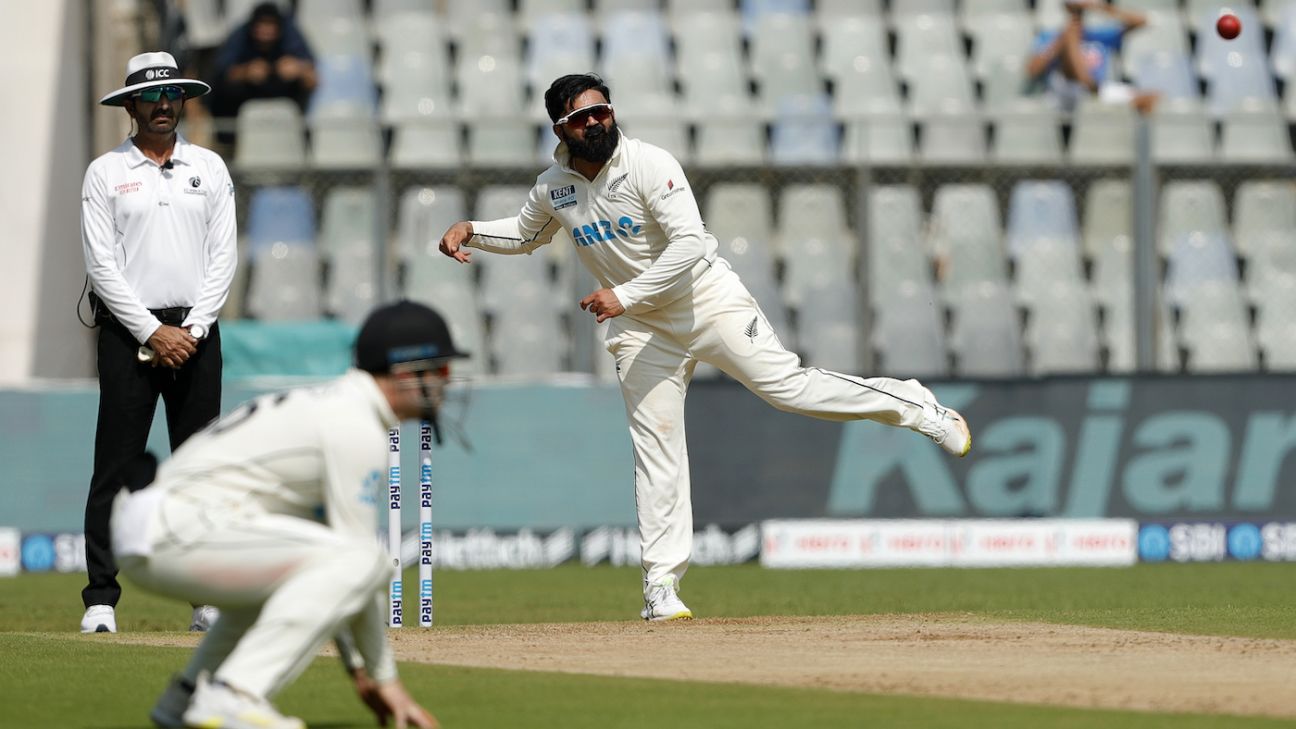 News
"To be out here and pick up four wickets on the first day is pretty special, but at the same time the job is only half done."
Left-arm spinners of Indian origin playing against India at the Wankhede Stadium has tended not to end well for the hosts. Monty Panesar has been part of two Test wins with England, in 2005-06 and 2012-13. And through the first session, New Zealand's
Ajaz Patel
, bowing in Mumbai, might just have given them a flashback of bad memories. At one point his figures read 12-7-14-3, which included the wickets of Virat Kohli and Cheteshwar Pujara for ducks.
"Pretty cool," Ajaz said of his day's work. "This is what dreams are made of. To be out here and pick up four wickets on the first day is pretty special. At the same time the job is only half done. So we have got to make sure we turn up tomorrow and really work hard for the last six wickets."
However, Ajaz enjoyed little support from the other end, with the other two spinners going for 66 runs in their 12 overs on a surface that the ball turned from the middle of the pitch on day one. One of them, Rachin Ravindra, was unwell while Ajaz had words of support for others too.
"Everyone was out there working hard and poor old Rachin came down with a bug this morning," Ajaz said. "He fought his way out there throughout the day. It is pretty impressive form the young man to be able to stick it out. It really shows his character. Tomorrow is a new day. We start fresh, and we go again. It is just about bowling in partnerships. I am sure we will turn up tomorrow."
India ended the day 221 for 4 having been 80 for 3 at one point, which has already given India a handy advantage in this Test. Ajaz said New Zealand will need long periods of good bowling to claw their way back into the Test.
"Test cricket is really about keeping it simple and consistently hitting good areas over a long period of time and challenging the batsmen over a long period," Ajaz said. "Tomorrow's game plan is very simple. Try and restrict them as much as possible. Bowl a lot of good balls. Force them to hit good balls as opposed to allowing them to hurt us with the bad ones. We just need to make sure we are consistent and in good areas for long periods of time.
"There is definitely assistance out there for spin bowling. And we have got more bounce than we had in Kanpur. So as a spinner you still want to bowl and work hard and put it in the good area for a long time. It is really about keeping the game plan really simple and using the wicket as much as possible."
Sidharth Monga is an assistant editor at ESPNcricinfo