Man City's Renaissance Man Lighting Up The Season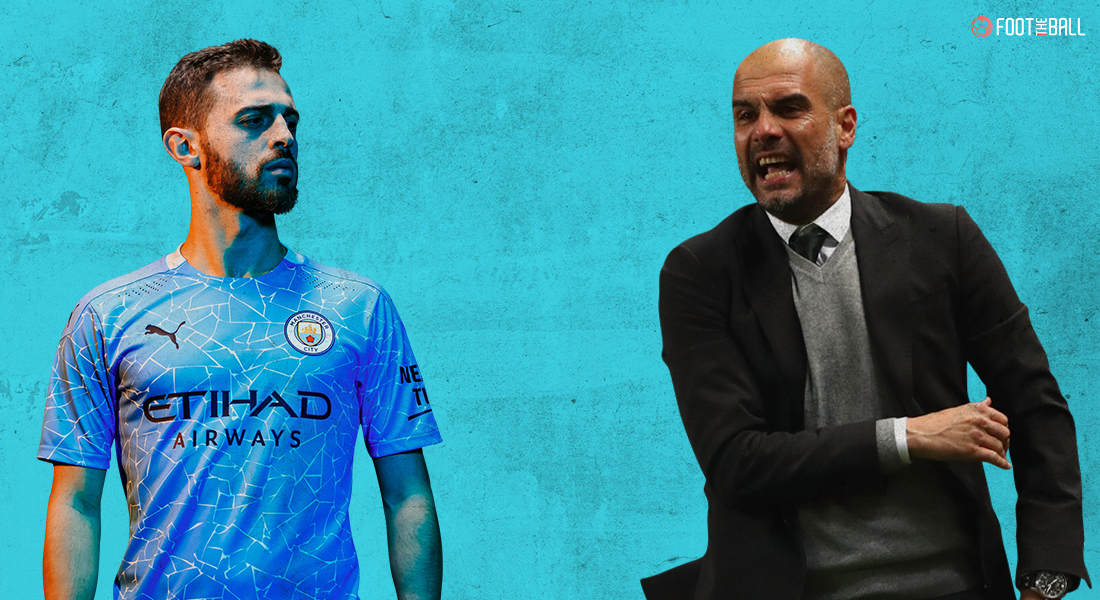 Manchester City have had a good season so far with the English club qualifying as Group winners in Champions League and also holding on to second place in the Premier League, a point behind Chelsea. And one player who has been a key cog in their team is Bernardo Silva who is having one of the best seasons of his entire footballing career.
The 27-year-old who was expected to leave the Etihad for greener pastures has managed to turn things around and is now definitely one of the first names on the team sheets.
The Portuguese playmaker showed one of his most assured performances against French side Paris Saint Germain in the Champions League where he completed all of his 47 passes.
These performances show how good of a run he is on this season.
Bernardo Silva completed every single pass he attempted tonight for @ManCity against PSG (47/47). #UCL pic.twitter.com/E5veOIyRxM

— The Analyst (@OptaAnalyst) November 24, 2021
2021-22 Season by numbers
One of the key reasons that Silva was touted to leave City was due to the lack of playing time. It is understandable that even a player of his stature would find it very difficult to regularly play in a side stacked with talent such as CIty have.
However, this season Silva has been provided with ample opportunities. He has played a total of 1035 minutes this season in the EPL, the third-highest in the City squad behind Joao Cancelo (!193 minutes) and Ederson (1080 minutes).
And the player has taken the opportunities with both hands and become one of the most important players on the team.
According to data from Understat, Silva is currently the highest scorer on the City squid, ranks fifth in terms of chances created, third in terms of the ball recovery, second in terms of pressures initiated within the City squad.
110 – Bernardo Silva has amassed 110 progressive carries in the Premier League this season (instances where a player carries the ball 5+ metres upfield), the most of any central midifielder in the competition. Gazelle. pic.twitter.com/hCbNcWKyfY

— OptaJoe (@OptaJoe) October 31, 2021
And he has been a very accurate shooter. Stats show that when it comes to shots, he is ranked tenth in the City team (taking players who have at least played 300 minutes) when it comes to shots taken per 90 minutes but is still their highest scorer.
This makes him more important as City have been struggling with putting the ball into the back of the net this season.
The precariousness of the situation can be proved by comparing the team's stats with two of their main EPL rivals Liverpool and Chelsea.
Expected goals data from Understat shows that Chelsea were expected to score 26.64 goals till the end of Matchday 13 but have actually scored 31 goals.
Similarly, Liverpool were expected to score 34.49 goals till the same period but have scored 39 so far.
City on the other hand have scored 27 goals while stats show they could have actually scored 29.49 goals  This lack of goals has hurt them as they are 1.61 points worse from where they were supposed to be.
Silva has also been impressive in defence with 21 successful tackles this season, better than players such as N'Golo Kante, Thomas Partey, Fabinho, Jordan Henderson to name a few and third in the CIty squad (the most by any midfielder).
These are some brilliant stats for a player whose two major weaknesses have been identified as finishing and tackling.
It is also to be noted that Silva has been the player that has been used by Guardiola in multiple positions this year and despite that has performed brilliantly in each role.
Silva has started seven matches on the right side of midfield, seven matches on the left side of midfield and two matches in the false nine positions this season.
He has also been the least wasteful in front of the goal when compared to all his teammates
| | | | | | | |
| --- | --- | --- | --- | --- | --- | --- |
| Players | Shots (Goals) | Missed Shots (Inside the Box) | Blocked Shots (Inside the Box) | Saved Shots (Inside the Box) | Hit the Post (Inside the Boc) | Highest xG Chance Missed (Inside the Box) |
| Bernardo Silva | 15 (4) | 3 | 2 | 5 | 0 | 0.34 |
| Ilkay Gundogan | 22 (3) | 3 | 6 | 2 | 2 | 0.50 |
| Phil Foden | 14 (2) | 2 | 3 | 6 | 0 | 0.38 |
| Raheem Sterling | 14 (2) | 4 | 4 | 4 | 0 | 0.47 |
| Gabriel Jesus  | 21 (2) | 4 | 6 | 9 | 0 | 0.48 |
| Kevin De Bruyne  | 10 (1) | 3 | 1 | 6 | 0 | 0.41 |
| Jack Grealish | 13 (1) | 2 | 4 | 6 | 0 | 0.35 |
Source: Understat (2021-22 season). Only players with over 300 minutes of playing time included
The above table shows that Silva has by far been the most efficient player for the squad in terms of goals scored.
Furthermore, he is also that person whose highest xG chance missed is the lowest of all players.
In fact, Gabriel Jesus, Ilkay Gundogan and Raheem Sterling have missed chances that had a huge xG rating thus showing Silva's competency as a finisher.
Although Silva's assist stats have declined that is to be expected when has to fill the gap that is left open without a proper number nine. And he has more than made it up for it with his attacking play.
Bernardo Silva 🔵
7.2m

Stats (this season)

Apps(mins) : 11 – (939)
Goals: 4
Assists: 2
Shots (sib): 14 (13)
xG: 3.52
xA: 2.36 pic.twitter.com/sCQYBfrvaz

— InSane FPL (@InSane_FPL) November 26, 2021
His highest scoring season at Man City was 2019-20 in which he scored eight goals in 52 matches, this season he has already scored half of that in just 18 matches.
If he continues with his scoring rate, Guardiola and City fans, in general, will have no problem with his less than expected creative stats.
Prior to the Everton match Guardiola in his interaction with the media said, "Now, he is undroppable because of what he does on the pitch… Sometimes he didn't play because he wasn't undroppable; he was not at the level. The year we got 98 points and won the league, he was the best [player]."
This shows how Silva has managed to transform himself into one of City's main men and one of the shining stars of this world-class team.