NSW has recorded 2,213 new COVID-19 infections, the state's highest daily figure yet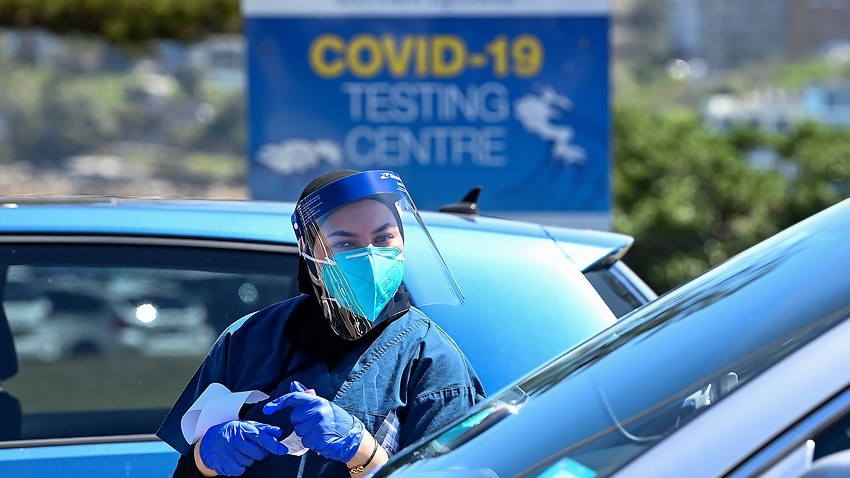 NSW records record 2,213 new COVID cases amid Omicron surge
---
A red alert has been issued for the state's hospitals, restricting visitor numbers and increasing PPE requirements as the state experiences surging COVID cases.
"We have temporarily restricted visitors to healthcare facilities due to increasing transmission rates with the emergence of the Omicron variant," NSW Health tweeted on Thursday night.
"We have not made this decision lightly. We must always prioritise our vulnerable patients and staff who are arguably the most vital workers needed in a pandemic."
NSW COVID-19 update – Friday 17 December 2021

In the 24-hour reporting period to 8pm last night:

– 94.8% of people aged 16+ have had one dose of a COVID-19 vaccine
– 93.3% of people aged 16+ have had two doses of a COVID-19 vaccine pic.twitter.com/bDtZNUCq2P
The escalating case numbers are being driven by super-spreading events at large venues like pubs and nightclubs, exacerbated by the highly-transmissible Omicron variant.
At least 97 people have tested positive so far from a Taylor Swift listening party, NSW Health said on Thursday evening, with at least some of the cases likely to be the Omicron variant.
All 600 people who arrived at the Metro Theatre after 9pm were designated close contacts and forced to isolate for a week.
A series of super-spreader events in Newcastle have caused a wave of infections in the Hunter area.
The majority are the Omicron variant.
The rules for masks and check-ins were relaxed in NSW on Wednesday. Source: AAP
---
Premier Dominic Perrottet is adamant he won't go back to the lockdowns and restrictions that dominated before NSW reached its high vaccination rate — currently 93.3 per cent.
The rules for masks and check-ins were relaxed on Wednesday despite the rising case numbers, with the unvaccinated now able to participate fully in society.
Victoria's COVID-19 cases grow as premier tests negative
Victoria has reported 1,510 new COVID-19 infections and another seven deaths, as the state's premier leaves isolation after testing negative for the virus.
The health department confirmed on Friday the state is now managing 12,578 active infections.
There are 386 patients in hospital, 82 of whom are actively infected with the virus in intensive care and 43 on ventilators.
The seven-day hospitalisation average has risen by 10 to 356.
Testers processed 82,301 results on Thursday, while 11,888 people were vaccinated in state-run hubs.
Health authorities are managing 13 confirmed Omicron infections in the state, with about 30 COVID-19 cases being treated as suspected Omicron cases.
It comes as the Victorian government considers opening more state-run clinics to fast-track the uptake of COVID-19 booster vaccines, after reporting 1,622 new cases and a further nine deaths on Thursday.
Meanwhile, Tasmania has confirmed its first coronavirus case a day after reopening its borders, a man in his 20s who travelled from NSW, and the ACT has 20 new cases.
Queensland had 16 COVID-19 cases that were infectious in the community and the state government will mandate face masks in essential retailers and on public transport from the early hours of Saturday.
The Northern Territory has detected eight new COVID-19 infections, as a long-running outbreak has forced the lockdown of Tennant Creek.
Four new cases were diagnosed in the remote town, 990 kilometres south of Darwin, Acting-Chief Minister Nicole Manison told reporters on Friday.