Recent Match Report – Gladiators vs Abu Dhabi 6th Match 2021/22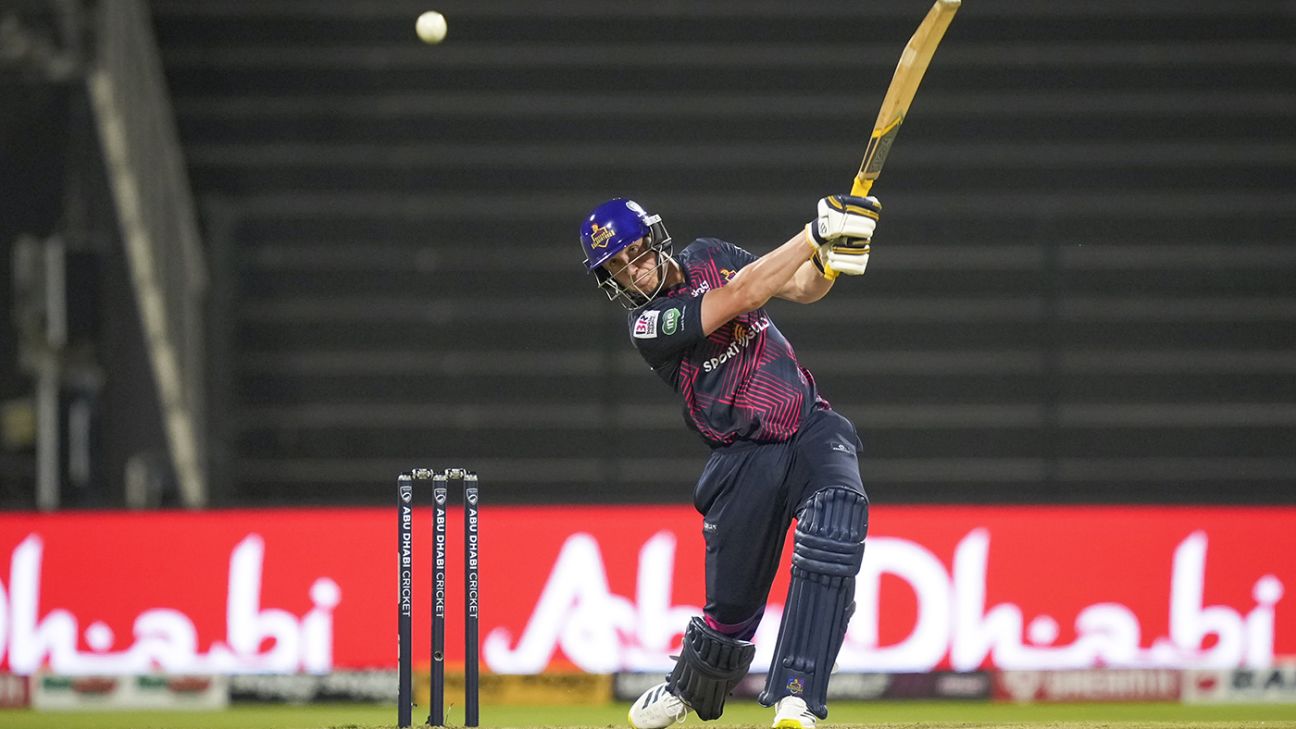 Deccan Gladiators 113 for 1 (Kohler-Cadmore 51*, Banton 44) beat Delhi Bulls 112 (Rossouw 48, Russell 3-17) by nine wickets
Alongside Tom Banton (44 off 21), another among an array of English batting talent, the pair put on 100 in 39 deliveries to drive their side home in front of England's white-ball captain, Morgan.
For Dwayne Bravo and Delhi Bulls, it was a first defeat in the Abu Dhabi T10. Despite becoming the first team to get bowled out this season, they still managed to set a challenging target of 113 for Gladiators.
Kohler-Cadmore went into the chase on the back of scores of 6 and 7 and he attributed his match-winning knock, which included three fours and five sixes, to a conversation he had earlier in the day with Mushtaq Ahmed, the Gladiators coach.
"I had a great chat with Mushy today, he just gave me a shed load of confidence and told me to trust myself from ball one and that's exactly what I did," Kohler-Cadmore said.
After the opening pair navigated the initial two overs of the powerplay with relative comfort, Bravo turned to another England man, Adil Rashid, in the hope of making a breakthrough. Kohler-Cadmore instead had other ideas.
How better to make a statement than to take one of England's most prized assets for 25 runs in an over, with Morgan given a front-row seat to witness the onslaught?
Rashid was smashed for four consecutive sixes by Kohler-Cadmore: three wonderful shots over midwicket and one straight back over the bowler's head. By the end of the third over, the Gladiators were 53 without loss and had almost halved the target. It was as emphatic a statement as you could make.
"I've faced Rash a lot in the nets, especially back home, so it was only going one way or the other," Kohler-Cadmore said. "Either he was gonna get me out or I was gonna get him. Thankfully, it went my way."
The chance to get one over his Yorkshire team-mate was certainly sweet, but Kohler-Cadmore was still full of praise for Rashid. "For me, to be able to learn and play with someone like him – because he's world-class and he shows it every time he performs, especially in an England shirt – it's awesome to learn from someone as good as him," he said.
T10 is a format of the game that doesn't allow for any time to settle in and Kohler-Cadmore underlined how that helped his approach. "It's probably the simplest format because your intent is to hit every ball for six anyway. Even when someone like Rash deceives you, you're still swinging in this format, so you might get an inside edge or an outside edge and get lucky. In fact, it's quite a simple game as opposed to when it's longer, it's perhaps slightly harder."
As he and Banton continued their assault at the Zayed Cricket Ground, the television crew decided that it would be a good time to interview Andy Flower, the coach of the Delhi Bulls. "He's a beautiful batter and he's great to watch, just maybe not so much when you're on the other side," Flower said of Kohler-Cadmore's assault.
He was remorseful and apologetic for his actions and it is fair to say he has made strides forward since then, not least by volunteering to speak at a PCA rookie camp where around 50 newly signed professional cricketers heard his tale as part of an induction into the game.
Suspension served, an England cap is still something that has evaded Kohler-Cadmore till now. He toured with the Lions in Australia in early 2020 and was part of England's 55-man training squad last summer. And he has spent the past year representing Yorkshire and Northern Superchargers, as well as Peshawar Zalmi in the PSL and starring in the T10.
The hunger is undoubtedly still there and innings like this can only help when knocking on the door of an England white-ball setup that is notoriously tricky to break into.