Recent Match Report – Sri Lanka vs West Indies 1st Test 2021/22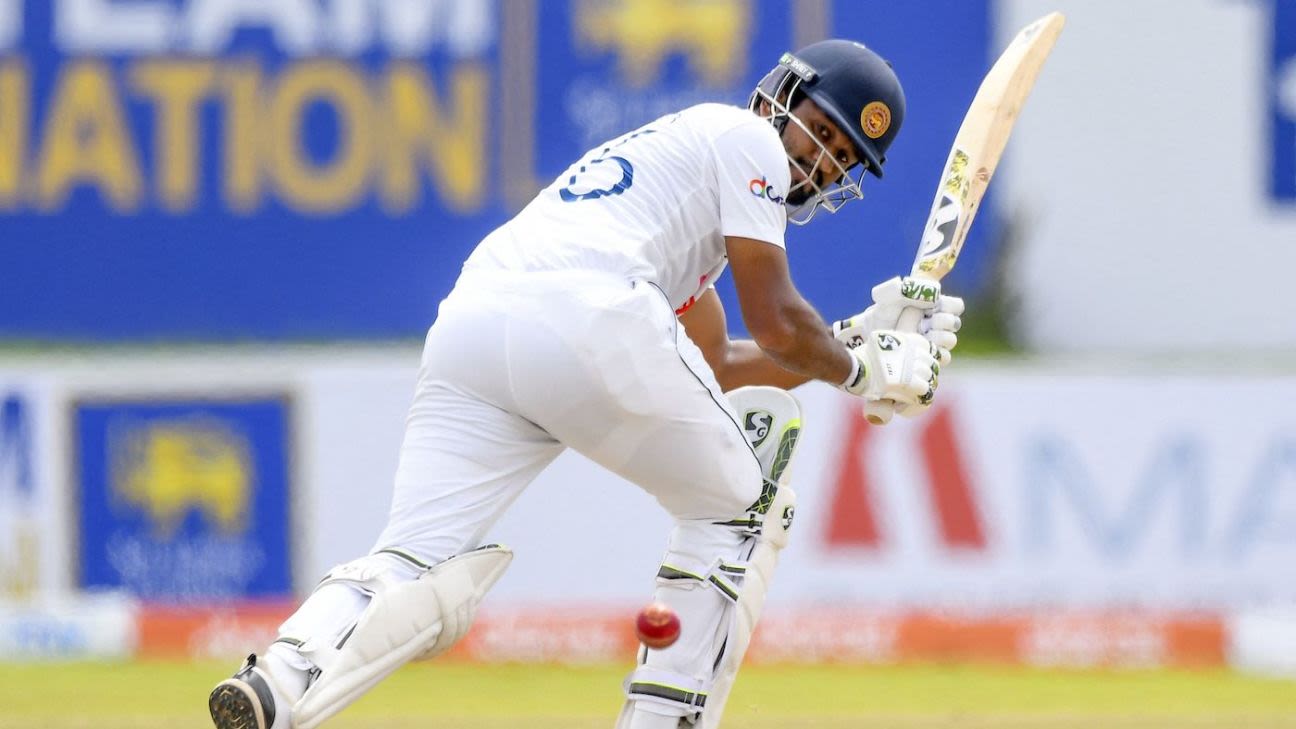 Report
West Indies were bowled out for 230 on the fourth morning to give the home side a 156-run lead
Lunch Sri Lanka 84 for 2 (Karunaratne 42*, Mathews 16*, Warrican 1-28) and 386 lead West Indies 230 (Mayers 45, Jayawickrama 4-40) by 240 runs
Mathews, at the other end, also looked comfortable, a late cut past backward point the highlight of his innings so far. But with the lead substantial – the highest total successfully chased in Galle is the 268 Sri Lanka ran down against New Zealand in 2019 – Sri Lanka are well and truly in control.
West Indies, though, would have been buoyed by how the pitch has behaved for their spinners – they have so far bowled Jason Holder and Shannon Gabriel only for three overs.
Warrican, meanwhile, was responsible for the only other wicket of the session, trapping Oshada Fernando plumb in front, after the batter had failed to make contact with one that went straight on with the arm. Oshada, who would graft a 32-ball 14, hadn't looked comfortable at the crease, his determination to employ the sweep – despite some half-a-dozen failed attempts – only compounding matters.
The visitors might have had more wickets had it not been for some uncertain decision making. After an ill-advised early review against Karunaratne, who was rapped on the pads outside off stump – though not offering a stroke – only for replays to show the ball missing the stumps by a considerable margin, the West Indies became extremely hesitant to use DRS.
This cost them on two occasions. The first was a missed Oshada sweep that brought about a fervent appeal from wicketkeeper Joshua Da Silva. The review remained untaken, only for replays to show that Oshada may have gotten the faintest of touches.
While that didn't prove too costly, the next one very well might. Cornwall hit Karunaratne on the pads, but none of the West Indians seemed confident enough to challenge the umpire's assertion that the ball had pitched outside leg. No review again, only for replays to show that the ball had indeed pitched in line and likely would have hit off stump.
Of the two, Jayawickrama looked the more likely to pick up the last wicket, having beaten the outside edge of both batters numerous times, and he was rewarded in the end. Gabriel was trapped lbw after being caught flush on the toe by one that was well tossed. Jayawickrama finished with innings-best figures of 4 for 40.