Recent Match Report – Sri Lanka vs West Indies 2nd Test 2021/22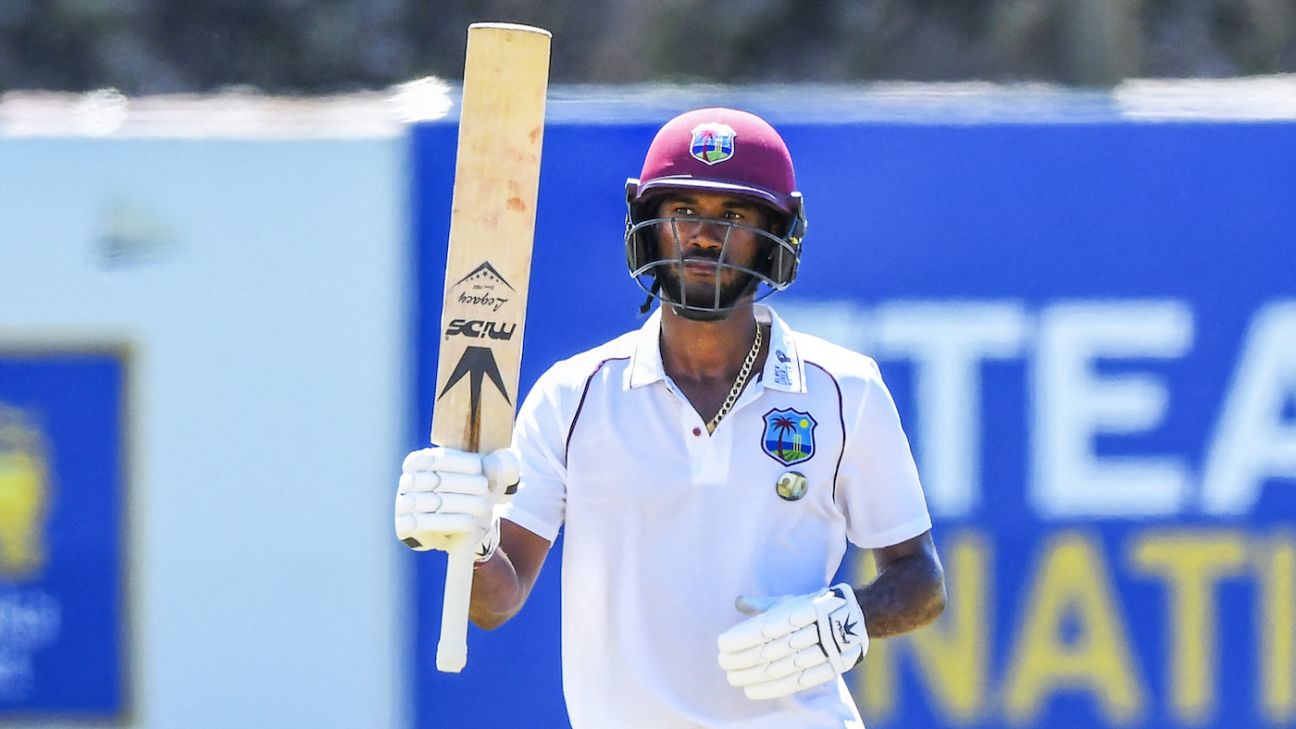 Report
Ramesh Mendis got Bonner leg before, but Brathwaite stayed firm at the other end
Lunch West Indies 145 for 2 (Brathwaite 62*, Bonner 35, Mendis 1-34) trail Sri Lanka 204 by 59 runs
West Indies sought to strengthen their grip on the game on the third morning in Galle, negotiating Sri Lanka's spinners with relative comfort, as they added 76 runs to their overnight total for the loss of just
Nkrumah Bonner
. They now trail Sri Lanka by 59 runs in the first innings.
Captain
Kraigg Brathwaite
remained unbeaten on 62 off 169 deliveries, while Shai Hope with alongside him on 1 having arrived at the crease a few overs before the lunch break.
Bonner will be disappointed to have not made it to the lunch interval, having done well up to that point to blunt whatever the home side threw at him. While he only managed two boundaries on his way to a 95-ball 35, he was rarely troubled, content to simply bide his time for scoring opportunities to present themselves.
Arguably his only misstep of the day brought about his downfall, staying back and missing one that straightened from
Ramesh Mendis
. The burned review afterwards was equally poorly judged.
Aside from that, the only other moment of any real peril occurred courtesy Suranga Lakmal, Sri Lanka's lone seamer, who got a fuller one to jag back into Bonner's pads, only for a subsequent review to show a faint inside edge. There was also a potential catch down the leg side, also off Lakmal, that wicketkeeper Dinesh Chandimal seemed to have grassed, only for replays to show that there was no bat or glove involved.
Those instances notwithstanding, the morning was one of supreme frustration for the home side. While Brathwaite and Bonner were resolute, the Sri Lanka spinners did themselves little favours, unable to extract the same turn and bounce that their West Indies counterparts were able to do so consistently the previous day.
Much of this was down to an inability to find the right lengths, with the left-arm pair of Praveen Jayawickrama and Lasith Embuldeniya particularly culpable in this regard, far too often straying full, making it easy for the visiting batters to smother any turn on offer. On the few occasions that they did hit a good length, both Brathwaite and Bonner were able to get bat in the way and deal with it safely.
Despite the day starting off with three straight maidens, it wasn't long before the spinners' frustration began to show, and the scoring opportunities to appear – and West Indies were ruthless in dispatching the loose deliveries, which at one point were far too frequent for the home side's liking.
Brathwaite, who was quite comfortable staying back and navigating the spin late in most circumstances, was the biggest beneficiary on this front, taking his boundary tally to seven for the innings. He was all too happy to put away anything short, square of the wicket on either side. The pick of his shots, though, were two front-foot efforts either side of mid-on – for the first, he showed exquisite wrist work to take one that was a little fuller and steer it to the left of a straight-ish mid-on, while the second was a delightful clip to the midwicket fence.
It was only following Bonner's dismissal that Sri Lanka's spinners – Embuldeniya in particular – looked to have rediscovered some sort of rhythm, and the home side will be looking for more of the same if they are to have any hope of reining in the visitors.
Andrew Fidel Fernando is ESPNcricinfo's Sri Lanka correspondent. @afidelf